Our Australian Bridal Industry Award winning ceremony spaces are our Waterfall Deck and Jacaranda Tree locations. With the modern comforts of hard standing floors and seating amidst the rainforest floor, these two ceremony locations are filled with fresh air, natural wildlife and the soundtrack to accompany it. You will also have 360 degree views of the wild, acres of privacy and of course, our hospitality services that will smoothly move you through the iconic moments of your wedding celebration. You will feel taken care of and excited, not stressed and unprepared, as we guide you through the process from start to finish.  We understand that the planning process may be very new to you so we take care of the finer details, freeing you up to enjoy the journey.
Say "I do" under our magnificent Jacaranda Tree surrounded by our amazing Rainforest Gardens.
A place to cement your vows with filtering light coming through under the stunning Jacaranda Tree…. A big tree can be the perfect ceremony backdrop and with just a few simple decorations, it can look so elegant and whimsical.
Your ceremony will be followed by your reception at the sophisticated and glamourous Marquee.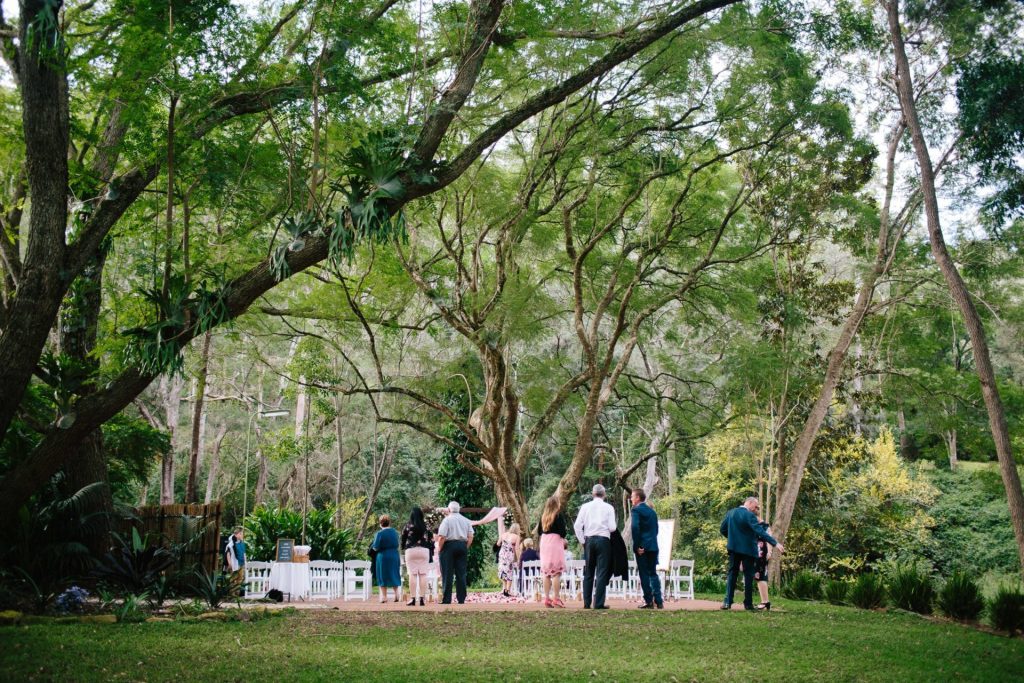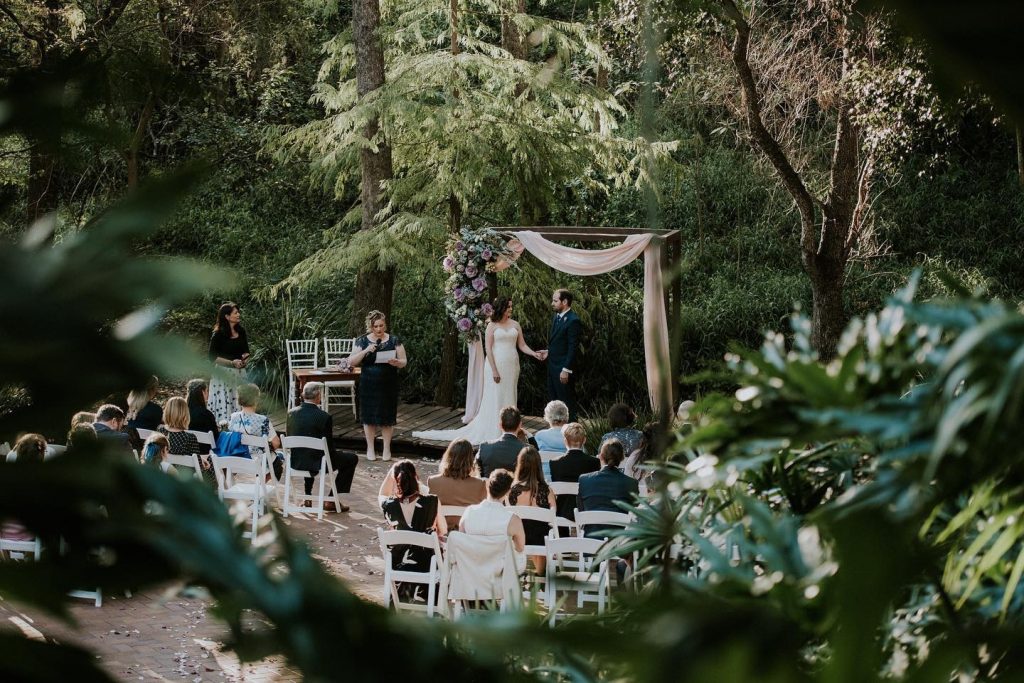 Say "I do" at our Waterfall Deck with the magic sound of bellbirds in the background.
With lush gardens and the tranquil sounds of falling water, our Waterfall Deck is the perfect backdrop for your ceremony.
Your ceremony will be followed by your reception in our charming and rustic Treetops Room.
Our ceremony setup includes:
♦ 32 White Americana chairs
♦ Red Carpet
♦ Signing Table
♦ White pillars with topiary tree
Wet weather options
We have wet weather options covered with our under-cover deck areas for your ceremony.
Upgrades including arches and other decorating items can be done through our in-house stylist and added to your invoice.
Ceremony only packages are for a duration of 2 hours, which includes your ceremony and photos in our beautiful grounds. No fake rose petals or confetti are allowed.
Ceremony times are generally between 2.30pm and 4.30pm depending on the time of the year. Times will be set and confirmed by our event manager so please ensure exact timings are received in writing before you book celebrants and photographers. We can only give you approximate times when initially discussing your wedding.