​WHICH ONE WILL YOU CHOOSE
With several reception venues to choose from, we provide the perfect backdrop for friends and families to come together and celebrate your most momentous day at our superior wedding venue. Whether it be a casual lunch time wedding or afternoon/evening wedding we have the perfect venue for you.
You can host your reception in our magnificent Marquee or Treetops Room for evening weddings or have an alfresco lunch in our gardens or on our deck overlooking the creek. The versatility of our rooms and venue allows anything from a small intimate experience of 30 people, outdoor alfresco or a larger group gathering.
After the ceremony and while the newly weds are having their photos in our beautiful gardens, guests can enjoy the afternoon relaxing and catching up with family and friends with drinks and canapes in our outdoor areas.
As the sun sets guests will make their way into one of our stunning fairy lit reception venues, where our highly trained staff will make your wedding the most memorable of experiences.
SOPHISTICATED AND GLAMOROUS
Following your ceremony at the Jacaranda Tree and canapes in our garden alcove, the stunning purpose-built Silk Lined Marquee is the perfect space for a reception for 50 – 200 guests. Approximately 20m x 10m in size, and fully draped in white silk lining you will have flexibility to style the area from top to bottom. Whether it be beautiful and elegant or country and rustic, the choice is yours!
What bride doesn't love fairy lights, we have this covered with over 150 meters of fairy lights draped throughout the silk lining in the roof to create that perfect ambience along with 2 gorgeous chandeliers.
In our wedding gallery you will find you have the choice of round or rectangular tables set in white linen and complimented with white americana chairs.
The Marquee lawn area is the ideal space for your guests to enjoy drinks and canapes between the formalities of your ceremony and reception. Set the scene with giant lawn games, as your guests relax amongst beautiful gardens with rustic wine barrels and your own bar area.
Our in-house stylist can assist you with your table centerpieces and decorating items from festoon lighting, lawn games to port and cigar bars.
Our in-house stylist can assist you with your table centerpieces and decorating items to bring your vision to life.
Following your ceremony at the Waterfall Deck and canapes on the Kookaburra Deck, the rustic charm of the Treetops Room is the perfect space for a reception from 30 – 120 guests. Approximately 15m x 9m in size, this space is overflowing with the rustic essence, nature filled charm and alluring beauty of being in the Treetops.
The Treetops room is unique, rustic and charming. The room includes roof to ceiling windows on one side that open onto the lawn and bar area to give you the ultimate indoor/outdoor feel.
Over-looking the creek and elevated in the trees, the buildings traditional timber structure offers a generous space with high ceilings and timber trusses that are a captivating and eye catching backdrop for your wedding.
With 3 stunning chandeliers over the bridal table and a ceiling draped with 200m of fairy lights the room provides the ideal atmosphere for rustic weddings to glamour weddings, and the style of yesteryear.
Our in-house stylist can assist you with your table centerpieces and decorating items to bring your vision to life.
Set against the stunning backdrop of Bundaleer enjoy a casual alfresco lunch with lashings of outdoor elegance, an abundance of rustic charm, and just the right amount of luxurious glamour.
Combining simple elegant decor details and beautiful countryside with fabulous food you can create the perfect day by bringing together your friends, and that quintessential alfresco atmosphere.
From buffet style to high tea menus we can tailor a package to suit your needs.
Availability is limited in peak season, minimum numbers 30 people.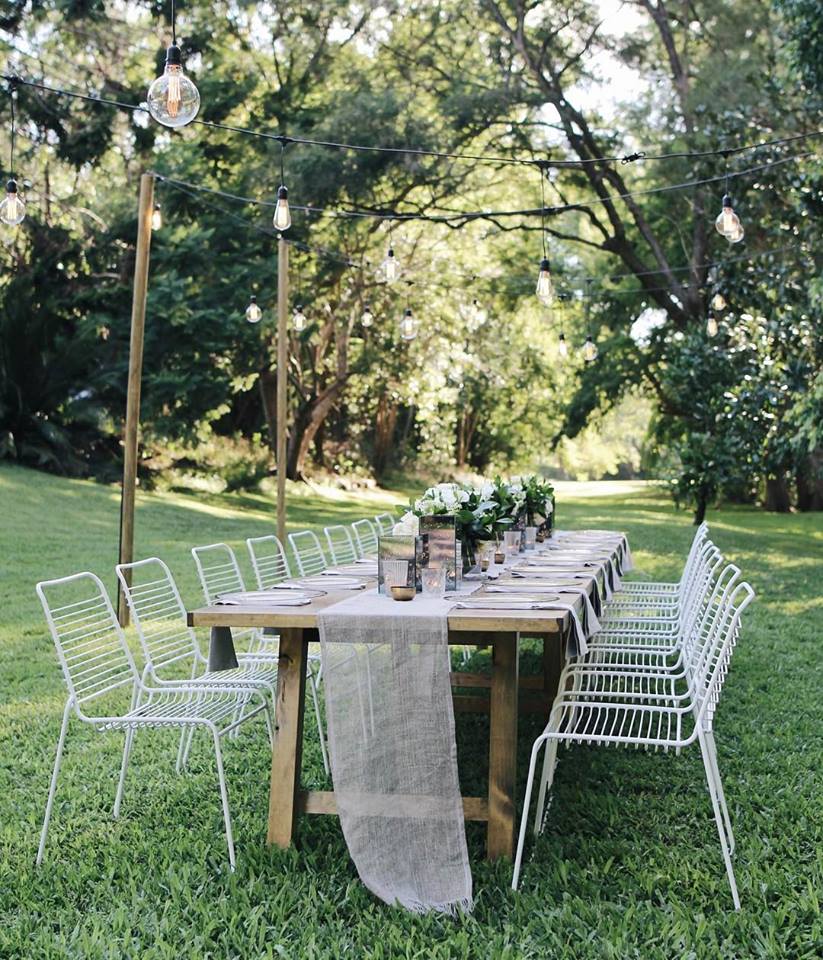 With all the spaces that Bundaleer has to offer, virtually any wedding style can be hosted for indoor and outdoor weddings. Whatever your vision, we will make it a reality your guests will be raving about for ages.
Our options are:
Marquee
Gumnut Deck
Treetops Room
Kookaburra Deck
Alfresco.
Site inspections are by appointment only so please contact our Events Manager – Sasha Donald to book a time.
Bundaleer Rainforest Gardens currently is a BYO licenced venue for both alcoholic and non-alcoholic drinks. We charge a per head corkage fee to cover your full bar set up. This fee applies to children and non-drinkers also. We allow pre-mixed spirits only.
Set up includes:
♦  Fully trained RSA staff
♦  Refrigerators
♦  Water & Ice
All glassware, water dispenser ice/ice buckets will be set up at your wedding and drink service is available from the bar. This fee does not include table service. Bottles of wine can be placed on the reception tables if you wish.
Please be aware that we are mindful of our liquor licensing responsibilities, we are unable to supply liquor to disorderly, unduly intoxicated and underage persons.